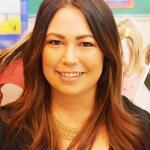 Alana Murray
Adult Basic Education student, 2016
Having a child will change your life – and no one knows that better than Alana Murray. Her face lights up when she talks about her son, Bentley. 
"He just turned 18 months old. He's hilarious. And he sleeps through the night!"
Formerly a hairdresser, Alana decided that once she had a child, she needed another occupation to become more financially stable. 
"After I had my baby, I really thought I needed a career; I was a hairdresser and I thought that's not really going to pay the bills and pay for daycare," she explained. "Actually, daycare is what really made me go back to school. I wanted to get a better job and I needed to upgrade my Grade 12."
While on maternity leave, Alana made the decision to enrol in the Adult Basic Education Grade 12 program at Great Plains College Warman Campus.
"I was super nervous, I hadn't been in school since 2006 so I didn't know what to expect. I wasn't even in a routine so it was a big change."
Tanya Spelay, the Grade 12 program instructor in Warman is also a mother, so Alana was able to easily relate. 
"Tanya was great. If you made a comment or asked a question, she never made you feel stupid. And she has kids as well so she understands that sometimes they're sick or you might be running a little bit late. She gives you time, she lets you work… she knows we have obstacles in life that we have to deal with as well."
Graduating from Great Plains College this past spring was a special event for Alana. 
"It means a lot to me, I'm really proud of myself. When I started, I thought I couldn't do it. 'I can't do homework, I can't study.' And, yeah, you can do it. You can really do anything you put your mind to."
To any of her peers who contemplate going back to school, Alana happily advocates for more education. 
"I know it's really scary at first because I put it off for so many years, but once you do it, you'll be so happy that you did."
As for what Alana plans to tell her son when he's old enough to go to school, she says she's pleased to set a good example. 
"After I graduated I told my spouse, 'Now when Bentley asks, 'Mum did you graduate?' I can actually say, 'Yeah, I did graduate and I graduated with over a 90 percent average, so there you go. You got some big shoes to fill!'"
Alana will be enrolling in the Practical Nursing program to become a nurse.