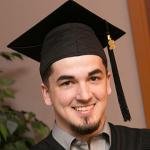 Carson Montgomery
Business Alumnus, 2016
Meet Carson, a GPC Business student/entrepreneur extraordinaire!

Carson Montgomery is part-owner of SKL eSports Inc. (SKLeague)–Saskatchewan's first and only legitimate competitive League of Legends League.
Like a true entrepreneur, he is always looking for new ways to grow his business. With that continuous improvement attitude in mind, he returned to school to grow his knowledge of the business world.
"Great Plains College was a great option for me because it offered a flexible learning environment and quality program instructors, right at home in Swift Current," Montgomery said.
Business students learn about everything from insurance and business plans, to human resources and marketing. For Montgomery, the accounting aspect of the program was the most beneficial.
"I've always been a fairly 'self-taught' guy, but you can't beat face-to-face instruction for complicated subject matter like accounting," Montgomery explained. "I'll definitely carry those skills with me as my partners and I look to expand our business in the future."

Congrats on all of your hard work and success, Carson! Be sure to check out SK League at http://skleague.ca/.