-
Great Plains College Gym
Join us for the inaugural SunDogs Raffle & "Pup" Rally in support of the Knight Dodge SunDogs Athletics program and scholarships.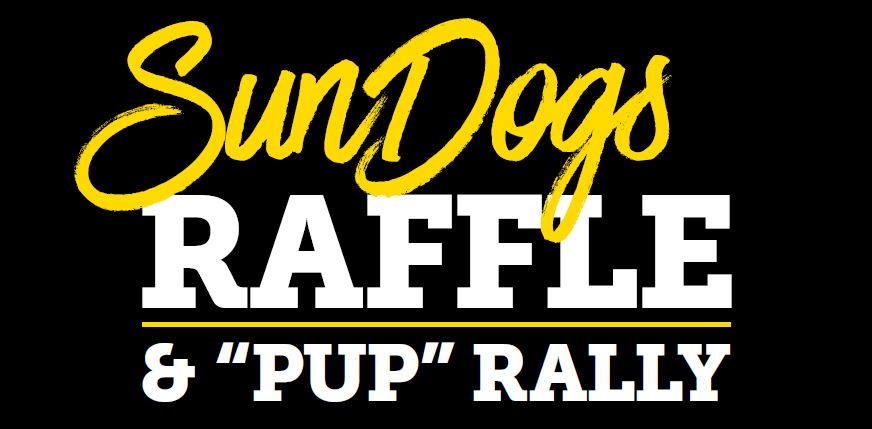 Raffle
2019 RAFFLE WINNERS:
Dining package – Jayson Sletten
Entertainment package – Ryan Miller
Shopping package – Jill Gates
Vacation package – Willie Wong
Sports package – Jason Thrun
Buy a ticket, support the Knight Dodge SunDogs, win a great local prize package! Each ticket is entered to win all 5 prize packages and the draws will be made at the live "Pup" Rally October 3.
Tickets: $40 each. Only 500 tickets available.
Where to purchase: Stop by Great Plains College, Mercator Financial or Knight Dodge; or contact Dianne at (306) 778-5456 or development@greatplainscollege.ca.
"Pup" Rally
Join us for the live raffle draw and family-friendly "Pup" Rally to meet the teams, play games and enjoy snacks.
Date: Thursday, October 3, 2019
Time: 6-8PM; raffle draw at 7PM
Location: Great Plains College Gymnasium, 129 2nd Ave NE
Prize Packages:
Dining package: $1,105 value

• Rockin' Horse Cookhouse and Bar
• Dairy King
• Modern Family Restaurant
• Wongs Kitchen
• Night Jar
• Living Sky Casino Horizons Restaurant
• Harvest Eatery
• Original Joe's
• Smitty's Restaurant
• TNT
• Canada Safeway
• Akropol
• Pizza Hut

Entertainment package: $1,770 value

• Get a Clue Escape Room – gift certificate for four
• Swift Current Cultural Festivals – six pack of Blenders tickets
• Swift Current Cultural Festivals – weekend pass to 2020 Long Days Night Music Festival
• Historic Reesor Ranch – Cowboy Package: One-night stay for two
• Clearwater Drive Inn – 4 tickets and food vouchers
• Saskatchewan Landing Marina half-day pontoon rental
• 2020 Frontier Days Platinum ticket package for two
• Cinema Twins Theater – 4 tickets to a 3D Movie
• Damara Day Spa – gift certificate and gift basket
• Chinook Golf Course – 18 holes of golf for two plus cart

Shopping package: $1,885 value

• Home Hardware
• Voth's BrandSource
• Pioneer Co-op
• Smart Flowers
• Sentiments
• Rittinger's Men's Wear
• OLEA Oil & Vinegar Tasting Room
• Pharmasave
• Supplement King
• Handcraft Haven
• Prairie Soul
• Yours Trulee
• Knight Dodge - 2 detailing gift certificates
• Bootlegger - gift certificate for one-on-one session with a jeanologist, pair of jeans and a gift card
• Bre's Boutique – gift card and leather gloves

Travel package: $2,613 value

• Two-bedroom condo rental at Horsethief Lodge in Panorama, B.C.: ski-in, ski-out condo for 7 nights beginning April 4, 2020 – donated by Travis Cuthbert of Mercator Financial
• Gas gift cards
• Detailing gift certificate from Knight Dodge

Sports package: $3,200 value

• Heritage Classic Hockey Game (2 tickets) Calgary vs. Winnipeg on Oct. 26 at Mosaic Stadium in Regina
• City of Swift Current – 2 tickets to the World Under-17 Hockey Championships
• Saskatchewan Roughriders - $200 Gift Card – tickets and/or merchandise
• Saskatoon Rush - $200 Gift Card – tickets and/or merchandise
• Elmwood Golf Club – 18 holes for four plus cart
• Swift Current Broncos – 12-pack of flex tickets
• Buffalo Brew Pub – Swift Current Broncos replica jersey
• Element Technical Services – 2 tickets to a Calgary Flames home game in the 2020/21 season
• Adam Lowry (Winnipeg Jets) – 2 tickets to a Winnipeg Jets home game in the 2020/21 season
• City of Swift Current/Agriculture and Exhibition Association – 2 tickets to the 2020 CCA Rodeo Finals 
• Knight Dodge – vehicle detailing gift certificate
• Swift Current 57's Baseball Team – 2020 season ticket
Raffle Rules of Play Lottery License No. RR19-0145
Staff and students of Great Plains College and their immediate family are allowed to purchase tickets.  The coaches of the SunDogs volleyball teams are allowed to purchase tickets

Must be 18 years of age to purchase a ticket

The cost of the ticket is $40

500 tickets will be available for purchase

The draw date will take place on October 3, 2019 in the gymnasium of Great Plains College at 7:00pm. 

All ticket purchasers will be invited to attend the live draw.  There will be five draws made for the five packages in the following order

Dining Package

Shopping Spree Package

Entertainment Package

Trip Package

Sports Package

See above for list of prizes in each package

Conditions

Some prizes will have expiry dates; for example, date of an event. 

All prizes will be awarded as presented.  Dates for Calgary Flames game and Condo Rental for Panorama may be adjusted based on availability and donor's discretion.

Each ticket drawn will be removed from further draws.

All prize winners not in attendance at the event will be contacted by phone.

All questions regarding this raffle can be directed to Dianne Sletten, Donor Services Coordinator at Great Plains College. 

diannes@greatplainscollege.ca

or call 306-778-5456.